Hello!

So you might have noticed its been a little quiet round here, most of you know that it's been Plus North this weekend, and as you can imagine I've been insanely busy. But here I sit back on my sofa after a truly amazing and wonderful weekend, something that I will write about in full detail over the course of this week.
In the mean time I was sent this gorgeous jacket from Pinkclove which I wore to travel in to Manchester on Friday...
I wore the jacket with a chambray shirt, striped skirt from Dorothy Perkins, opaque tights and patent ankle boots.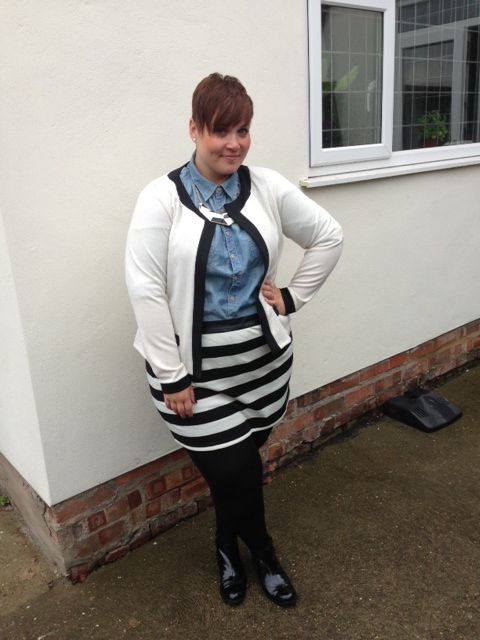 The jacket is a stretchy jersey in cream that has a very subtle but oh-so pretty gold thread running through it. The black detailing and round neck, edge to edge style gives it an obvious Chanel feel, but they joy of it being jersey means it has flexibility and makes it instantly more wearable than a bouclé type version. I'm in the 22 (UK) and found it to be true to size.
Even though it's a jersey, the jacket still has great structure and it's just so beautiful. Priced at just £15 I'm bowled over by the quality and value for money, can't wait for my student loan to go so I can have a little Pinkclove splurge! - Oh yeh I started uni this week too as if I wasn't busy enough already!! Ha!
Thanks Pinkclove, I'm excited to try some more items from the range!