OOTD: Bargain buys and a nice surprise....
10:00
Sunday was a
Clumsy Pickle
day, Michael and I headed out for what was a long day, trying to sell our wares. Sadly it wasn't the best of days. You win some, you lose some, but we carry on regardless!
I wore something comfortable but smart(ish) as I didn't want to let the side down! When I was in London the other day I had half an hour to kill before my train home so I wandered round the shops in Kings Cross. I went into Oliver Bonas because everything is all so pretty and middle class, not thinking I could actually afford anything, when I saw this scarf in the sale, down from £28 to £10 and just fell in love, the print and colours are so gorgeous, I haven't taken it off since Friday really!
I just put it on with a plain black tee and my new Dorothy Perkins polka dot jeggings, can we just talk about these for a second? I haven't bought trousers from Dorothy Perkins for many years, in fact, since the time I tried to put on a pair of jeans and literally couldn't get them past my ankles.... My ankles people!!
Then the other day I was browsing the sale and saw these and thought, why not, worth a try! And am I glad I did, they are such a great fit!! Really generous, stretchy, comfortable. I ordered my usual 22 and if it weren't for my larger thighs and calves I would have been fine with a 22, so if you're quite a slim legged 24 with a rounder tummy or fuller hip, I'd say they are worth a try!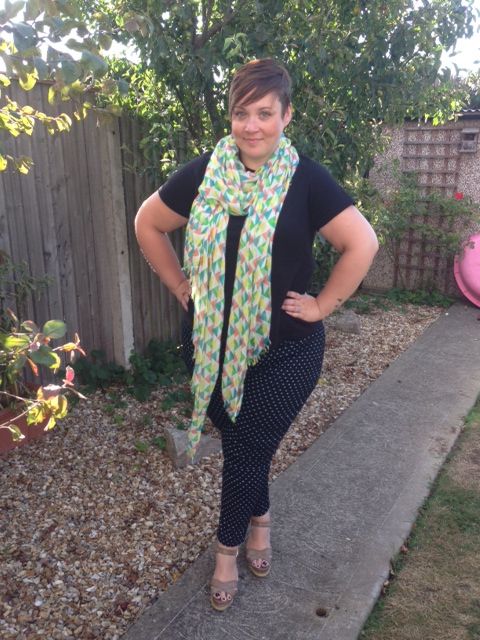 I find I'm most comfortable when I'm wearing a simple base, with a few cute details and a big bold item whether that's a scarf, huge necklace or insane shoes. What's your outfit lifting accessory?
And please, answers on a postcard as to what I'm looking at here......