Everlasting love...
09:13
Long term readers of the blog will know I have a little bit of a love affair with jumpsuits, I'm not sure if its because I wore them as a child in the 80's or the fact they're basically a big baby grow, but damn I love jumpsuits, I own about 5 and that's not including my massive collection of play suits and onesies.


When I saw this one on the ASOS website the other day it was instant, I knew I had to have it!








It's a midweight jersey, not too flimsy that it bags, but not too heavy that your going to get too hot in it. It has an elasticated waist and pockets (I know, too exciting!) and tapers down to a fitted ankle. I ordered the 22 and found it to be true to size, in fact the fit for me personally is amazing. It's loose enough in the hip area that it doesn't cling to my tummy, bum, hips. The taper on the leg is perfect and the length is really great. I'm 5'7" I'd say there's enough length in the to accommodate someone taller and those shorter could easily take them up or roll them up.







Please excuse my tired face, I'd been at the Lovedrobe event all day, which was amazing, we had such a laugh (I'll be writing it up very soon) but it was incredibly hot and I'd travelled the 2.5 hours to Manchester and then back again so I look a little frazzled!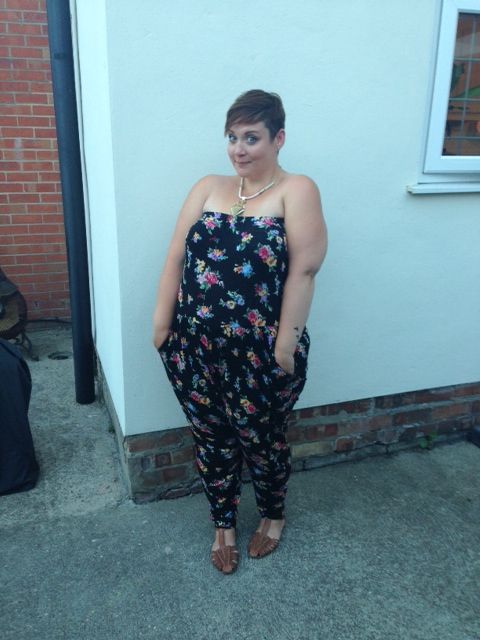 And just a quick pic from the event that I've pinched from our amazing makeup artist for the day the lovely Bec Dyke this made me laugh so much, don't ask me what possessed me to hoick my leg up, or why Rosie is playing it like a guitar, but it really made me giggle!!