My big fat wedding dress.....
12:00
I've been asked quite a few times if I was going to write a post about my experience as a plus size bride. I don't think I have before because my size didn't have an effect on my experience really, I was very lucky in the fact when I went to the bridal shop there was a good selection of gowns for me to try and I found mine after trying on the 3rd one. No traipsing round lots of shops, no sense of disappointment, so I was extremely, extremely lucky. I know this isn't the case for a lot of brides, especially plus size brides.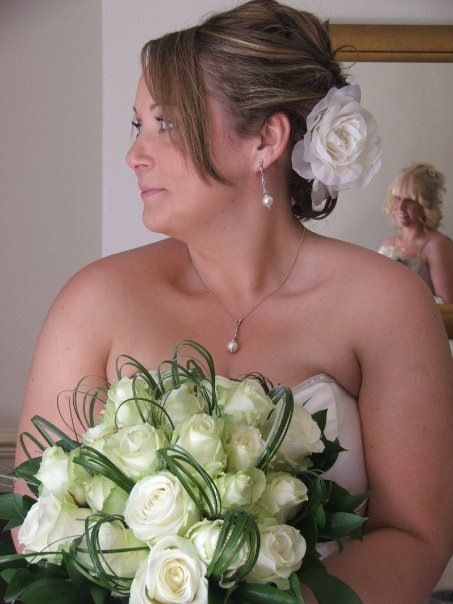 So today I thought I'd look at what's available on the web because let's face it, not only is it difficult to find a wedding dress, nowadays it's not practical or necessary if I'm honest to spend a ridiculous amount of money on a wedding dress.
Mine came in at (after some alterations) around £400 which was WAY more than I had planned on spending, I swore I was going to spend £200 max, but I kind of fell in love with my dress and just sucked it up!
Ok, so first up is Simply Be. I cannot tell you how firstly gutted I was when they launched their range (because I would have been so happy to have a Simply Be dress) but overjoyed for all the other brides who could take advantage of it!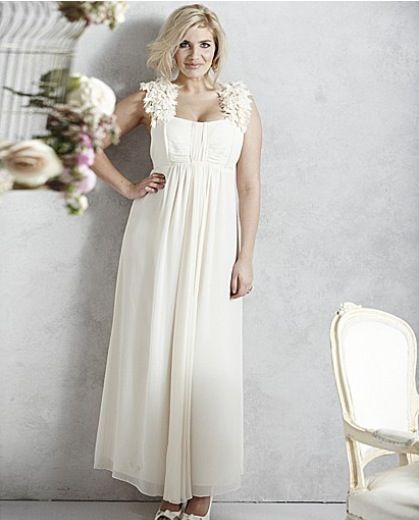 The pretty petal detailing to the straps of this dress don't just make it beautiful but practical too, if you're particularly big busted and feel you need the support of a full bra on the day this is a really great option.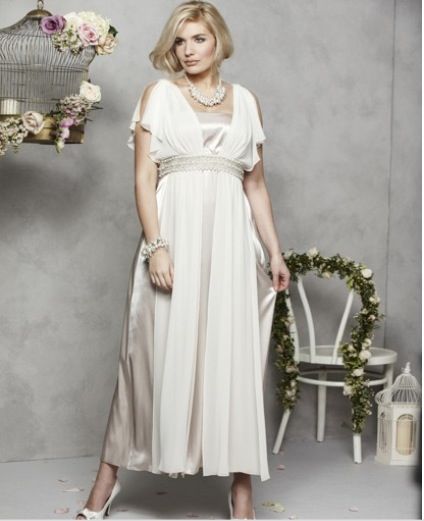 This dress is so pretty and with all the buzz around The Great Gatsby it's great way have your very own Art Deco inspired wedding!
To view the full Simply Be range up to size 32 click
here
....
Next up I thought I'd look at American company Light in the Box. They have a brilliant range of bridal gowns up to a US size 26 (UK 30). Ordering from out of the country might be a little bit scary but I kind of figured for your perfect gown, it's worth taking the risk and you can always hire a seamstress to iron out any small fitting issues should you need too.
This one really caught my eye as its quite traditional but has some arm coverage, an area I know a lot of people regardless of size aren't particularly comfortable with.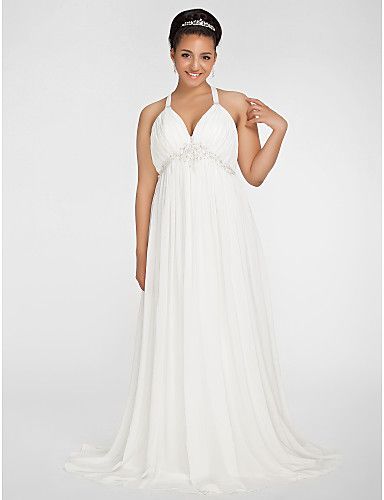 I liked this light, less structured dress as I thought it might be a nice option for brides saying "I Do" abroad or in warmer climates.
You can see Light in the Box's extensive range
here
....
Last up today, I found a sight called
Wedding Dress Online Sale
, I'd love to hear if anyone has used them before. They have a really big selection of dresses all of which up to a size 30, a lot of which are very traditional. I particularly like this one...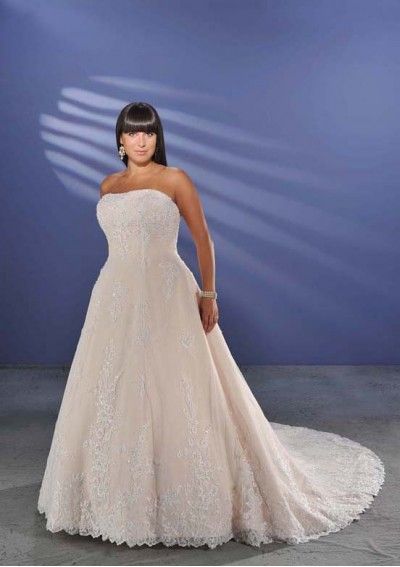 The intricate bead and lace work is just stunning and the train at the back really gives it the wow factor.
So I hope I've given you some options to look at that cover a wide size range. For those of you up to a size 22, the choice is much more vast with retailers such as Debenhams and BHS stocking a range of gowns.
Another option of course is the traditional bridal shop and with more plus size specialists popping up on the high street, the options for plus size brides are getting better by the day.
Heres just some of the options in the UK...
And for blog inspiration the lovely Em at Boombands Blog did a couple of great posts on plus size brides...
So there you go, I hope you might find some inspiration or ideas in today's post... and why the wedding post? Well it's mine and Mr BeBe's wedding anniversary at the end of this month, so I'm feeling all slushy, for which I will be writing another post about the actual day... so watch this space!