I wish that every kiss was never ending....
08:23
I did a little wedding post the other day and as mentioned I thought I'd write a little bit about my day, it's a bit more of a personal piece, but thought it might be nice! (Very Picture Heavy, all borrowed from friends as we sadly never got the digital copies of our official ones..)
This time 4 years ago, after a couple of years planning, finally saw our special day upon us. I say a couple of years, to be completely honest, we mooched round a few wedding fairs, read a few leaflets and that was about it really. I hope I wasn't a complete bridezilla. I look back now and it all seemed like a pretty easy process apart from our original car company shut down, the cheque for the seat covers was returned to our old address and the new tenants somehow managed to cash it, and our live entertainment had double booked....oh and our original honeymoon booking was cancelled and we had chose a new hotel. Ha! So not much really then? Still, it all seemed so inconsequential.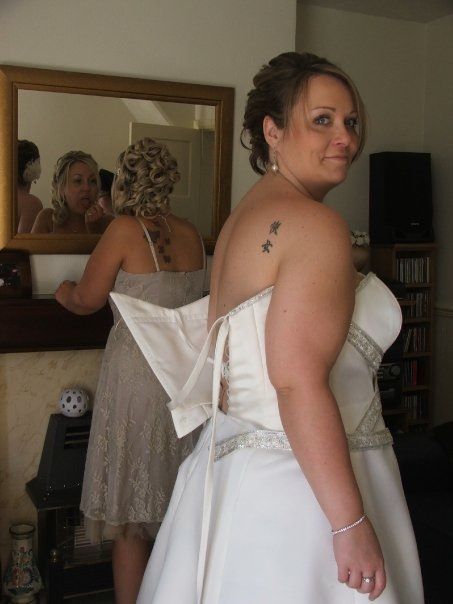 Getting strapped into my dress
I was just happy to be marrying the love of my life. Even when I stepped out of the car and got oil on my dress before I'd even walked down the aisle, I remained calm. The registrar said I was the calmest, most upbeat bride she'd ever seen.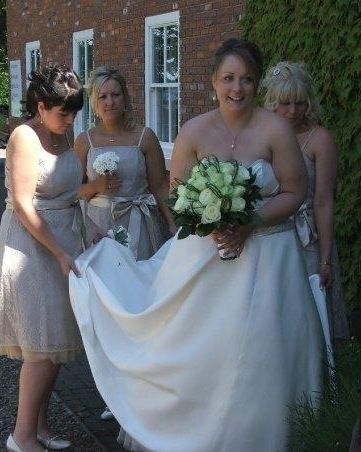 Oil on dress? Pah!
But as I stood outside the room where we got married, the music I walked down the aisle to (Glenn Miller's Moonlight Serenade) I crumbled. I vaguely remember walking down the aisle making a snorting noise, the combination of me laughing and crying, attractive huh?
Our best man Ben signing the register under the watchful eye of Michaela
The service seemed to go by in a flash. Both Michael and I have no religious beliefs so we went for a simple civil ceremony. The plan was we were supposed to walk back down the aisle as a married couple to The Beach Boys, Wouldn't it be nice... What actually happened was the venue played the wrong track and momentarily we walked off to Dancing in Street much to the amusement of all the guests!
Calling out around the world.....!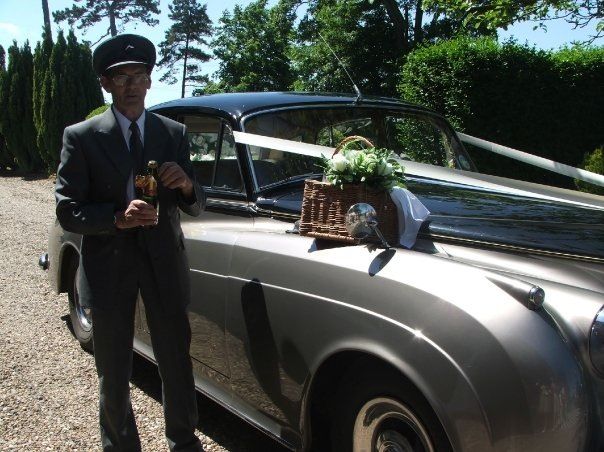 Winston, our beautiful car.... and our not all-together there driver...
We then went off and did the food, photos, drinks, cut the cake, all the traditional stuff (of which I wont bore you). As everyone filtered off to go home and get changed for the evening party, my new husband and I, our bridesmaids and partners and my lovely, slightly crazy friend Mazza sat by the lake (I say lake, its a really big pond if I'm honest but just go with it...) In the hazy late afternoon sunshine we all sat around and chatted and giggled and relaxed after what had already been a very busy day. It really was the loveliest afternoon I'll always cherish.
My beautiful bridesmaids...
Having a beverage or two by the Lake....
We then all headed to the evening venue and partied the night away...
Sweaty dancing head!
Our first dance...
Our first dance was to Everyday by Slade, the reason being when we first got together Michael lived over the other side of the county and with neither of us driving it proved difficult to spend time with each other and we missed each other desperately, being the drama queen that I am I used to listen to this song on my own with a glass of wine in my little flat all maudlin!
So there you have it, we headed off into the sunset (well the dark to our hotel, but you get the drift.....)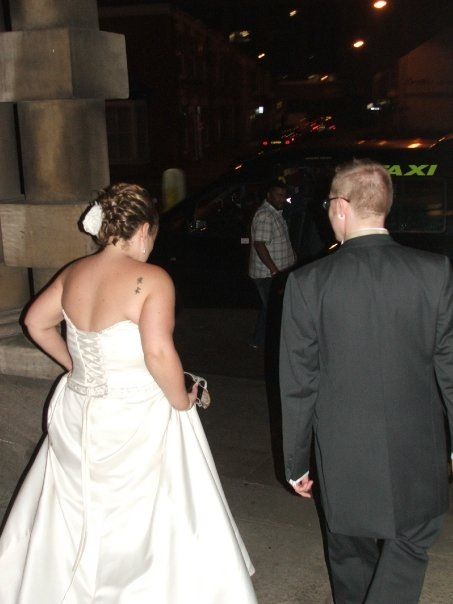 A very happy anniversary to my wonderful husband, without whom, I'm not sure I'd still be here. He supports me everyday, he holds my hand through the hell that is living with a Mental Health condition, he shares the responsibility of our beautiful daughter and he's guided me through some of the most truly awful times of my life with his quiet calm manner. He also drives me bloody bonkers with his short temper, and makes me laugh 'til I cry with his silly humour and clumsy nature. I love you immeasurably Mr Barnes.