Hello all! A week or so ago over twitter conversation a bunch of Plus Size Bloggers thought it might be fun to do some body confidence/confidence building posts, the fab Becky came up with the Flash the Flesh concept... And the lovely Mary wrote a little intro...


When a group of bloggers join together for a chat you know that the final result has to be super!! And so this happened once more when, a few days ago, we were talking about our preferences between mini and maxi and Becky thought that it would be great to create a challenge which goal was to show a little bit more skin and our body (but with style and no vulgarity) showing proudly our curves. And so it was born "Flash the Flesh".




So for this first challenge I though I'd start of with a little flash of tummy and a hint of VBO (visible belly outline) and just to smash another fat girl no-no I've worn some horizontal stripes for shits and giggles.




I think for me, the most important thing to acknowledge is that not everyone will be comfortable enough to do this, and nor should they ever feel pressured to do so. I am, and happy to do so, but please don't ever think we're saying to others you should too.... but, if it does give you a little confidence boost, or make you feel better about your own body, then that is AMAZING.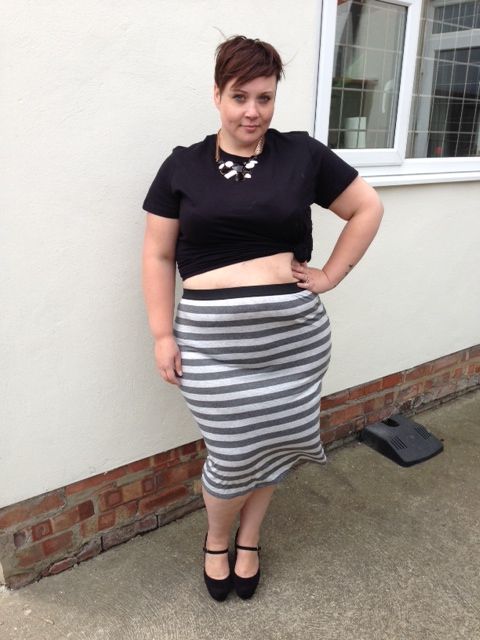 I eased myself gently into this one, as I don't mind my tummy area too much, my legs are my big area of woe, and I'm hoping by the time the next challenge comes around ill have the confidence to show them off a little bit more.

And one last note, Toni posted a shot of me on her blog yesterday that was taken from behind. I NEVER pose any other way apart from front facing, but after seeing the ass shot, I'm quite enjoying flashing my butt, so here's another one!




Here's a list of all the other fleshy babes flashing theirs...

Becky - http://www.mrsbebeblog.com

Becky - http://www.doesmyblogmakemelookfat.com/

Beth - http://www.tinkerbellandthelostgirls.blogspot.co.uk

Charley http://biggirlabouttown.blogspot.co.uk/

Christiana - http://www.lifeofouk.blogspot.co.uk/

Emma: http://www.plussizemillard.blogspot.com

Gail: http://www.gailygumdrops.blogspot.ie

Kaye - http://polishedcurves.wordpress.com/

Kim - http://www.callmekim.net/

Leah - http://justmeleah.blogspot.co.uk/

Lolly - http://lollylikesfatshion.blogspot.co.uk

Mary - http://www.marysbigcloset.com

Natalie - www.awheelbarrowfullofstyle.blogspot.com

Nikki - http://nattynikki.blogspot.co.uk/

Rachel - http://www.adressisforlife.com

Sian - http://sortlifeoutbuymilk.blogspot.co.uk/

Steph - http://seeingsp0ts.blogspot.co.uk/

Vicky - http://www.thecurvedopinion.com/