Wild in the Jungle...
19:17
Hey guys, hope you're all having a lovely weekend? Last night Michael and I went out with friends for a meal and to see another friends band.

I had one of those rocking outfit moments, when you put something on that makes you feel amazing, regardless of whether I did, it was how I felt that mattered.

I wore my new dress from H&M, I got a catalogue through the door the other week, I'm flicking through the pages, it's all very nice, but nothing in particular moved me, that was until I got to the maternity section. What?! Yeh it comes to something when I'm excited by the maternity section but when I saw this dress I got all excited!


MAMA Dress - from H&M
http://www.hm.com/gb/s/04NT3L
CONSCIOUS. Straight V-neck dress in softly draping jersey with a print pattern, with gathers and buttons at the front, a tie at the waist and a slightly longer back section.
www.hm.com
Ooh get H&M they have a fancy blog widget you can copy and paste onto your blog, how awesome is that? So anyway, yeh... Here's what I looked like in it...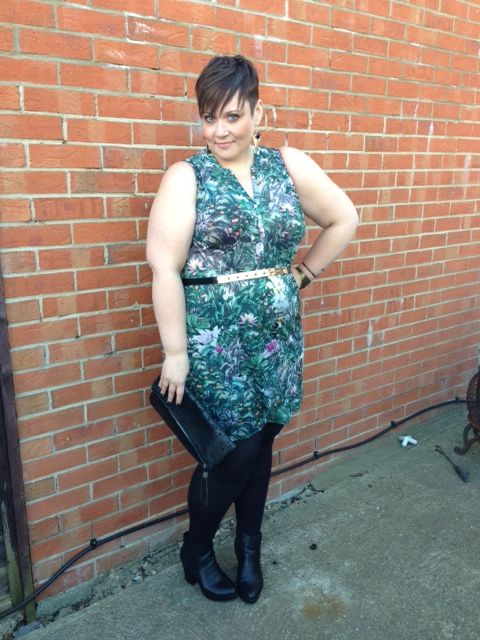 I wore.... Dress - H&M (details above)// Belt - ASOS Curve// Boots - Barratts// Clutch Bag - Matalan// Earrings - Primark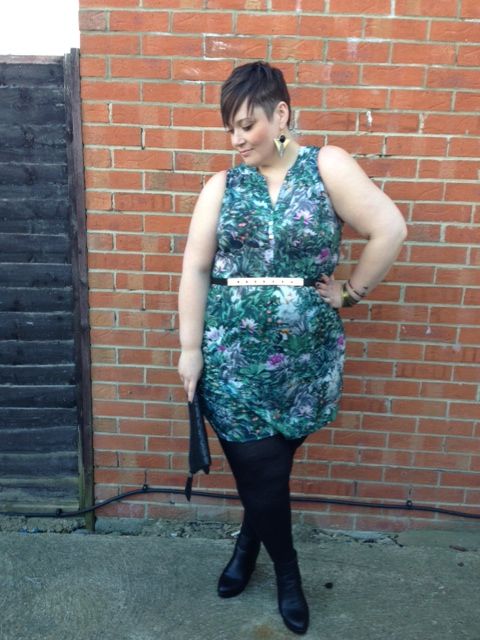 Words cannot express how much I love this dress, the fabric close up is amazing, the closer you look the more things you spot, like sneaky toucans and little monkeys.. Erm amazing. The fabric is a very thin lightweight jersey, and on the hanger I thought it was going to be see-through, but luckily it wasn't. And although on this occasion I dressed it up and can see me wearing this all summer long with leggings and sandals.
The H&M plus range can be a little hit and miss in both style and sizing so I tend to stick to the main range, the size XL is equivalent to a 22/24. I haven't tried the trousers but have found the tops and dresses a really good fit, it's definitely one to remember.
I had a really nice time with my friends but unfortunately, I made the very silly mistake of eating bread. Although I haven't had a diagnosis yet, I've managed to figure out from eliminating gluten from my diet that I am in fact intolerant and if I do eat bread, pasta etc my belly balloons out and I look 6 months pregnant, I get terrible cramps and other ickyness! But my greedy bread loving self took over last night and I paid the price having to cut my evening short. My lesson has been well and truly learnt, it's very early days for me, so I'm not being too hard on myself. Do any of you guys suffer from a gluten/wheat intolerance? What do you do when eating out? Do you have any great lunch time recipes? I'd appreciate all the advice and help I can get!
P.S. I'm currently in mourning for bagels & pretzels, it may be a while before I can get over the pain and agony ;)