Hello! So, sometimes there's this kind of rule that says with our new found confidence as proud fat folk we shouldn't wear black "cover up" clothes, and yes to some extent I love how colour makes me visible, and in your face. But some days I genuinely love wearing a head to toe black outfit, it makes me feel all slick and chic and a bit bad ass!

I was getting my hair cut today and running round town so wanted to feel comfortable but smart. A couple of weeks ago now, the very lovely folk at Live Unlimited sent me some tops from their new range. For those of you who don't know, Live Unlimited is stocked in Evans, it's what I would class as mid-price range, it's not cheap, but it's not eye wateringly expensive either. It's probably more geared at 30+ I'd say, it's classic with a modern twist with lots of attention to detail.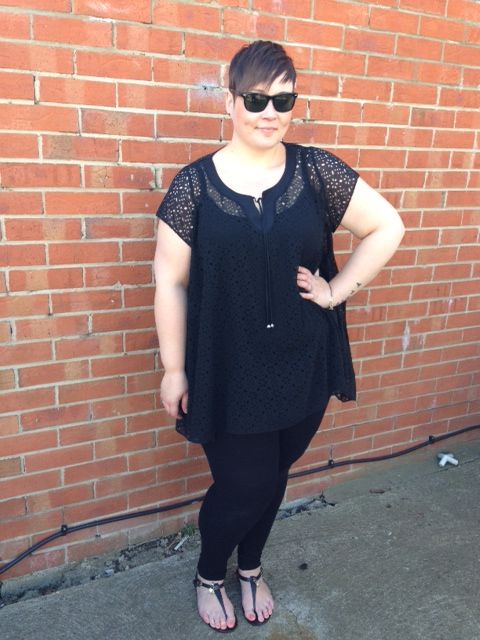 The black lace blouse with cami is really light weight and floaty, and the cut work is just stunning. The cami is jersey which makes a nice change. I find sometimes the cami that comes with a lot tops is normally a shiny viscose type material, but this is a lightweight soft jersey. I'm wearing the 22 and found it to be true to size.

The cami can easily be taken out if you want to wear this as a cover up for the beach (a pretty posh beach granted) or fancy a more revealing evening look!




I've got 2 other gorgeous tops from this range to show you, but I urge you to check the whole range out, I can up honestly say I pretty much love every single piece, and coming from me that's a big statement, because I am very picky!!