So, never in all my days, when I started my blog did I think I would have the privilege of being able to attend rather fabulous fashion events, and, although I enjoy them massively, the travelling can be really tiring and expensive. So when I got an invitation to a fashion event in my own town I could not have been more excited!

Stella and Alf
, the brainchild of designer Paris Hodson and stylist Charlotte Hay. The collection is made up of natural and organic fabrics, sourced as locally as possible and is manufactured in the UK.
I attended a showing of the collection in the
Abbey Walk Gallery, Grimsby
where I got to see first hand the thinking behind the range, the patterns used for each piece and the beautiful garments themselves.
For me it was just fascinating to see all the patterns laid out, how they come together and the thoughts behind each design.
It was really nice to see a room full of people taking an active interest in both fashion and local business....
The collection is made up of beautiful, tactile capsule wardrobe pieces that are classic and stylish but with a modern twist.
One of my favourite pieces was this stunning white skirt, I loved the simplicity of it and the texture and feel of it was so lovely.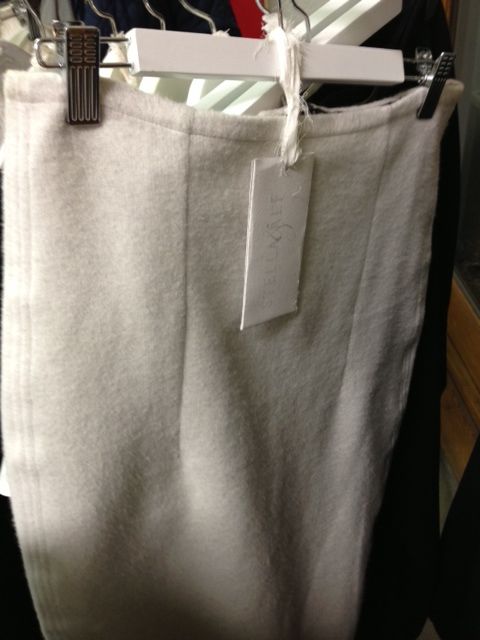 What I really enjoy about events its getting up close and personal with clothes that I might not have the opportunity to get a feel for normally, as more and more companies emerge who might be predominantly online or in locations its not always easy for me to get to, I love that I can get the chance the experience the clothes first hand.
One of the most captivating things at the event for me was the beautiful imagery used to showcase the collection, I love how they've used a diverse range of ages when choosing models, the simple but striking images really are beautiful.
My photographs don't really do the collection any justice. Its really worth heading over to the
website
to get a feel for the brand and see the whole collection.
A huge thank you to Charlotte and Paris for the invitation. It was truly lovely to see some fabulous fashion in my home town!