Underneath your clothes...
10:30
Ok ladies, can we talk about pants? ladies briefs, knickers, whatever you call them...

Blogging pretty dresses every day is rather lovely, but sometimes as a plus size lady it's the garments under our clothes that are even more difficult to find, especially if you're over a size 22, and even more so if you don't want to have to pay a fortune for them. When Bonmarché contacted me to write about their lingerie, I was more than happy too, as a existing wearer of thier knickers, I can happily write about the merits of lingerie from Bonmarché all day long!



I've picked out some of my favourites from the website. I've stuck with every day pants, it might not be sexy or glamorous, but it's practical and let's face it, when I pick out my knickers in the morning, I'm not looking to impress anyone, I want them to look good, feel great and not ride up my bum, it's as simple as that.







These microfibre knickers are listed as a full brief, I'd personally call them a boy short, a style I wear a lot of the time, I don't know, maybe I'm just getting old and trying to sound trendy?! The microfibre makes them really soft against your skin and at £4.50 a pair they're really great value. They're available up to a size 32 and the mint green is lovely for the summer under lighter coloured clothes.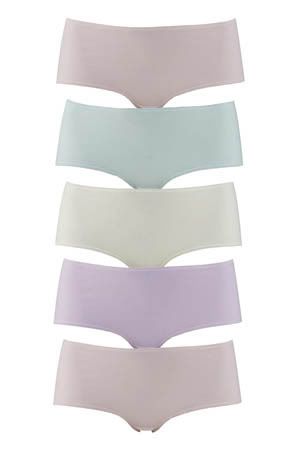 Staying with a pastel theme this multi pack of 5 briefs are amazing value for money at £7 a pack or 2 packs for £12, that's 10 pairs of knickers for £12 folks, they go up to a size 26 too, I just think they're cute and fresh!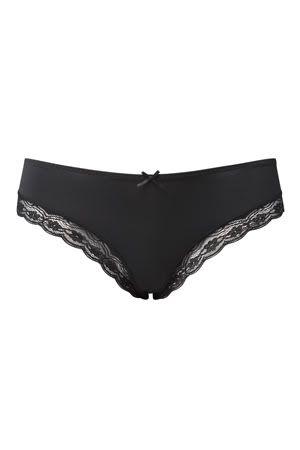 Now all those pretty pastels are all good and well, but if you're anything like me 90% of your knicker draw is made up of black. I just find them to be the most practical. A lot of my trousers are of a darker colour, so they sit better under those and quite frankly as plain as they are I don't think there's anything sexier than just a nice pair of black knickers, classic and chic! I love these black plain high leg briefs, the little hint of lace is lovely and you can get 3 pairs for £8 so very bargainous indeed!



Bonmarché have a great selection of lingerie including bras, knickers and shapewear right up to a size 32. I think all too often its over looked as a bit of a granny store, but I've found myself stopping by there more and more just lately, (as you may remember I got the coat of dreams from there, ahhhhh beautiful) and I love their pyjamas too. I've said this before about many other Plus Size brands, but with less choice than our slimmer friends, it's really worth exploring every store that offers plus size clothing, on first look they might seem a bit too old, or a bit too expensive, but I think sometimes you can be surprised, I know I was with Bonmarché!