In the swing of things...
21:01
Hello February! January was pretty awesome so I'm hoping this continues! Yesterday I headed to Birmingham for the launch of Curvaceous Inc a new plus size magazine, which I'll tell you all about in my next post, I just thought I'd quickly post the outfit I travelled in.
Swing dresses are everywhere at the moment, Rosie has got the most gorgeous damask print one, featured here... And it was Amanda who told me about the black one. I'd been struggling to find a long, black jersey top with a loose fit, I've got lots of fitted tops which I love, but someways I prefer a more relaxed look, and feel for that matter.
So I ordered this from ASOS, and I love it! I sized down to a 20 as I'd heard they come up quite generous, plus really like the arms to be fitted on my clothes. I wore it with my studded collar bird print shirt, Sainsburys leggings (still the best) and my Yours knee high boots.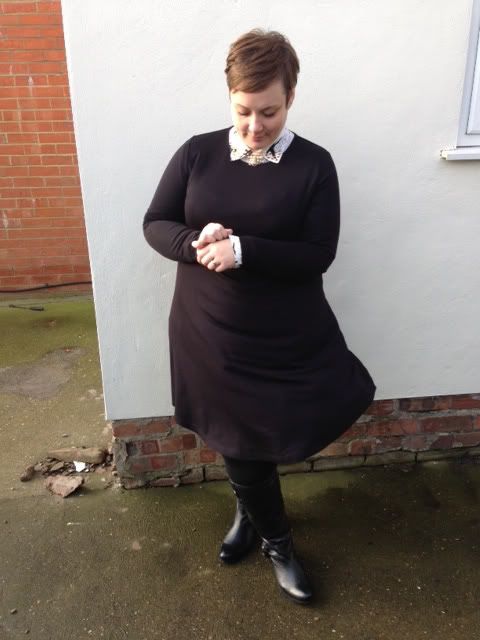 I wore..... Dress - ASOS//Shirt - Simply Be//Leggings - Sainsburys//Boots - Yours Clothing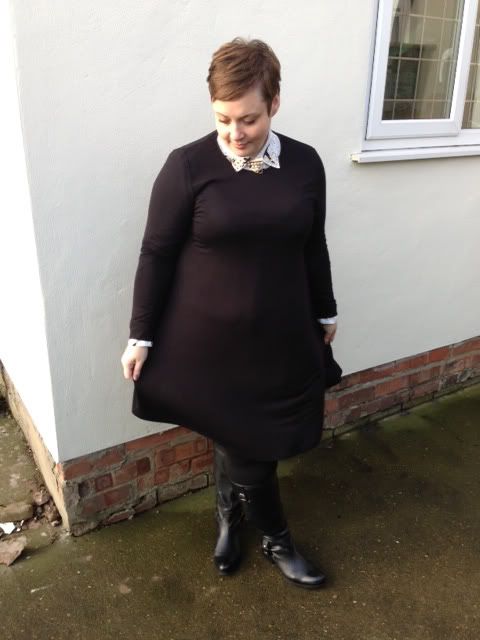 I think kinda look like a nun, but I don't mind! I also realise I've gone against all the rad fat rules, as I am actually wearing a black tent with long sleeves, but hey, sometimes every girl, regardless of size wants to wear something classic, comfortable and streamline. I love my bright colours and loud prints but sometimes wearing black, makes me feel smart and put together.
Sorry to be a competition bore, but don't forget, if you haven't already to enter my giveaway to win one of four sets of 1000 business cards!