I trust you've all recovered from New Year celebrations? I thought I'd share the outfit I wore to go out in, I wasn't going to, because what I wore wasn't particularly exciting, but I posted a quick pic on instagram and everyone was loving it, so just thought I'd pop it on the blog too. This was not the outfit I had planned. I had a fab sparkly body con dress to wear, but when I got it on it just didn't make me feel great, I don't know if it was the bloaty pasta tummy or the fact I couldn't find the right jewellery to go with it, but it just felt wrong, you know?
So I did the only thing I could do when I need a last minute feel great outfit, I pulled out some of my favourite bits of clothes and I made sure I was flashing a bit of boob...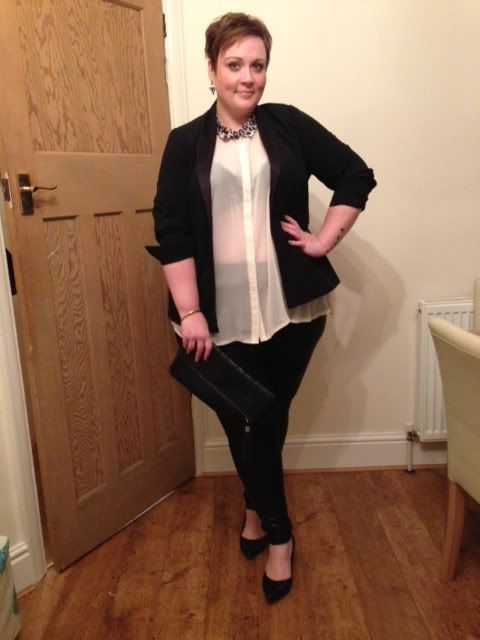 I wore....
Sheer Shirt - Primark//Tuxedo Jacket - Simply Be//Wet Look Leggings - Simply Be//Court shoes - Clarks//Clutch Bag - Matalan//Boobs - Me ;)
What did you guys get up to on New Years Eve and did your outfits go to plan?