Hello!
Some of you will be aware I'm involved with my local Burlesque scene, I used to be stage manager for the local cooperative before I had Poppy and now I just help out when I can with singing, working on the door that kind of thing.
A big part of
Burlesque
for me is the dressing up, the escapism, I love the music, the atmosphere and more importantly seeing everyone in their finery!! So When I saw that Lisa from
Off With Her Head Millinery
was looking for bloggers to try out some of her
bespoke
pieces I sent off an email as fast as my little chubby fingers could type. It turns out I was lucky enough to be chosen as one of the bloggers and waited with great anticipation to see what Lisa would send for me to try.....
Oh my......
Erm hello dancing skeletons... AMAZING
I usually wear this style of fascinator, so I was over the moon when it arrived, the attention to detail is stunning and I love the dancing skeletons, so, so cool. The head piece is finished immaculately with an awesome neon pink fabric on the reverse and plastic comb to fix onto your hair...
Like I said I do wear a lot of pieces in this style but I've never had one made this beautifully. Lisa's work is stunning, something in this style would retail around the £25-£30 mark on her site. You can buy them pre-made on Lisa's website or you can have a bespoke piece made to order. For those of you who love vintage styling, Lisa's work is second to none. I'm just hoping someone invites me to a wedding soon so I can have something amazing made up.
I wore mine with a wig as I think my modern cropped hair doesn't really scream vintage and I would have had some better pictures had my husband not dropped his phone down the loo, so I'm afraid this is all I've got of me wearing it, I got loads of compliments on the night, everyone loved the design.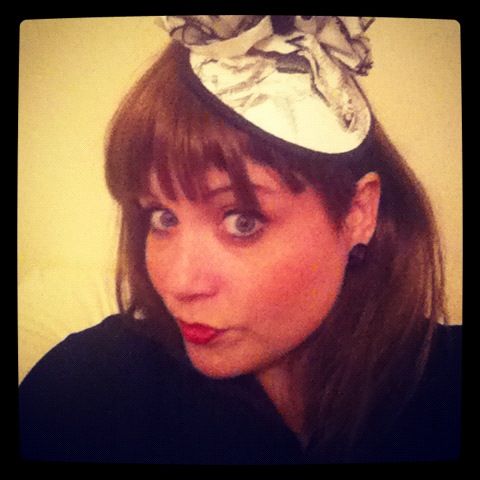 If you are on the look out for something a bit different, maybe for a vintage event, a wedding or just every day fabulousness, I can't recommend
Off With Her Head Millinery
highly enough.