Kim's Girls - Review
21:19
Hello!
So those of you who follow me on twitter might remember me asking if you could fill out a short survey for 2 fashion students, I'm always happy to help, in whatever small way I can, people who are striving to make a difference in the Plus Size world.
I think without further ado I should hand over to the girls and they can tell you their story....
We're Chelsea and Charlotte (twins) we're 18 and live in Plymouth. We've been plus size girls all our lives (both roughly a size 24) so around 6 months ago we were shopping in newlook's inspire section and we became quite angry that it had been moved to the back of the shop hidden away and you had to walk through the childrens and maternity section to get to it. We were utterly fed up! We couldn't go shopping with our friends and we couldn't go round these stores buying what we liked we had to ignore everything in fashion and head straight to the back and hope we find something. Its true we had evans but we find it expensive at times and isn't always aimed at young women. There is a few places online we can shop but we feel like there still isn't the variety in comparison to mainstream sizes. So we've been researching the fashion world for months and decided to join the Peter Jones Enterprise Academy so that we had the support we needed to try and fix this problem and we've produced Kim's Girls.
  Kim's Girls is all about empowering plus size equality, giving women the confidence they need to love their curves. We want to give women a brand they can trust from women who know what they're talking about after all we don't know how not to be plus size! It's who we are. Kim's Girls will provide fashionable clothing, we want not to give plus size women their own fashion but what other sizes can have and more! The products we're selling at the moment are to test the market, so they're premade but are chosen by us! We have and will continue to select items that will reflect the quality and style aims of our own clothing line. The aim is to have our own clothing line by the end end of next year.
We are currently selling our items through our eBay store, our products are available in sizes 16-26 but this is something we are aiming to expand on.
  We are a start-up business so we want to test the market as much as possible to get this right! Kim's Girls stands for honesty and realism and loving our curves!
  Our survey is an ongoing research tool http://www.surveymonkey.com/s/Q6393HK
And you can contact us via social media...
www.facebook.com/kimsgirlsclothing
Twitter - @PJEAchels_char 
The girls were generous enough to send me one of the tunics and a pair of leggings they are selling as part of their test marketing period.
It's from the Praslin range which I know is stocked in a couple of other plus size sites, but for me it's the first time I've tried it. I had no idea what to expect and when the tunic arrived I wasn't sure it was my style or that I liked it, but when I got it on I was more than pleasantly surprised! It looked great on, the sizing was spot on and I loved the stud detailing.
I teamed it with my biker jacket, leggings and heeled boots.... And apparently a duck face....hmmm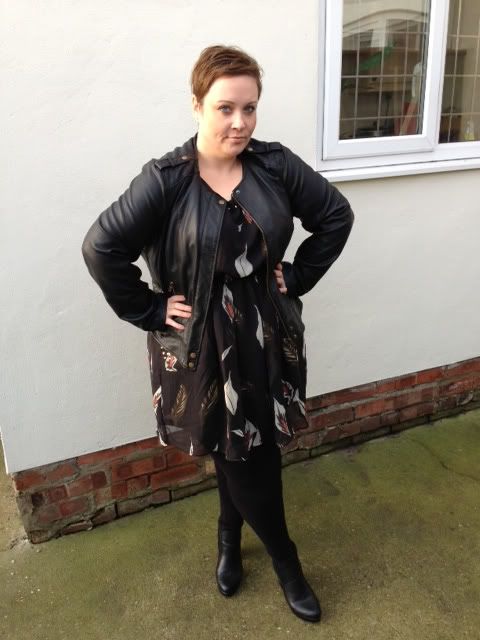 The quality of this tunic is lovely and I love the print. The leggings are lovely quality too, but they are 3/4 so not quite the weather, but I'll be sure to blog them at a later date.
If you like what you see and want to support these two young ladies, then head over to their eBay shop and check it out.
http://www.ebay.co.uk/itm/plus-size-studded-feather-print-dress-/150969313533?pt=UK_Women_s_Tops_Shirts&var&hash=item232678e8fd
And at £20.99 with free P&P they are priced very competitively! Make sure you follow the girls on twitter and say hello!