It must be love, love, love...
16:40
So, over the weekend I had the pleasure of holding a stall at the Cats Pyjamas Festive Vintage Fair. The Cats Pyjamas is a Burlesque cooperative who have held shows in Grimsby for over 5 years now, they've now branched out with a Hull show and their fantastically successful Vintage Fairs.
As some of you might know I used to own a Vintage Tea Party business, but since selling it, I had some left over china stock which I decided to make in to pretty gift sets, the sets went down really well, and its made me think about doing it as a little business but I'm not sure yet... Watch this space!
Whilst MrBeBe looked after the stall for me, I got the chance to have a quick look round and I picked up a couple of compete beauties!
The first of which is this beautiful vintage dress, I'd put it at late 60's/early 70's myself, but if you have a better idea, do let me know, I'm always interested to learn more about vintage clothes.
As I've mentioned in the past, I always get overly excited when I find vintage clothing to fit, so you can imagine my complete glee at finding this!! I picked it up from local company I Luv it, I really do vintage I'm so, so happy with it and for £6? Whaaaat? Amazing!!!
I also picked up this super cute necklace...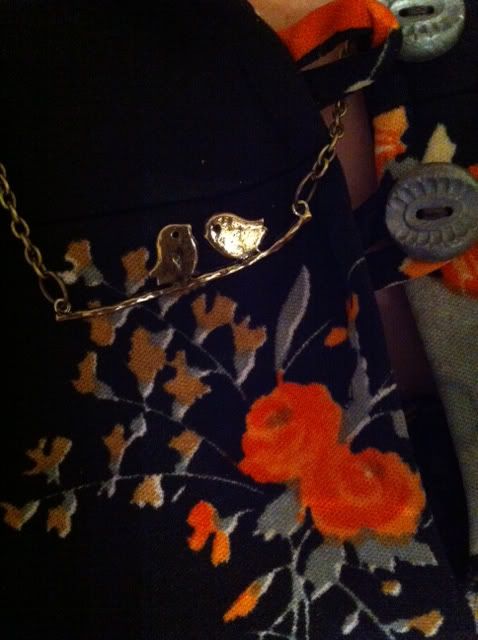 With my love of birdies these two little cuties sat on a branch was too lovely to resist, I picked it form Katy Kitch you can check out their Facebook page here
Do you visit fairs often, have you picked up any nice bargains? I love them as its a great way to support small business and a fun afternoon out!