If you go down to the woods today.....
19:39
Ok, so finances as they are in the BeBe household I very rarely get to make purchases for myself nowadays most of our money goes on just living and any extra on Baby BeBe, which I guess makes me a crappy blogger as I rely on my existing wardrobe and those items that I am massively lucky to have sent to me..... SO you can imagine my excitement when I had a little spare bit of cash and managed to treat myself to a piece of clothing I was really excited about!
You might recall I've had a love/hate relationship with ASOS Curve, I love their clothes, I love the bold, trend led pieces, they never fail to bring out exciting plus size clothing, which in itself is still sadly a rarity, but what I hate about Curve is the random, sporadic sizing, how I can never seem to get it right when choosing the right size. Judging from their Facebook page this is something they are looking to improve on and have been holding fit days albeit for under 30's (apparently I'm too old to be fashionable)
So it was with great apprehension I made an order with ASOS, but for this particular item I was willing to take the risk. The item in question popped up on my Facebook feed, then a few of the blogging babes started talking about it too, I really had to have it.
I'm a complete sucker for a conversational print, and one with woodland animals? Hell I'm on board!
I wore...
Woodland print peplum top - ASOS
Jeans - Simply Be (similar)
Leopard Print Brogues - ASOS (similar)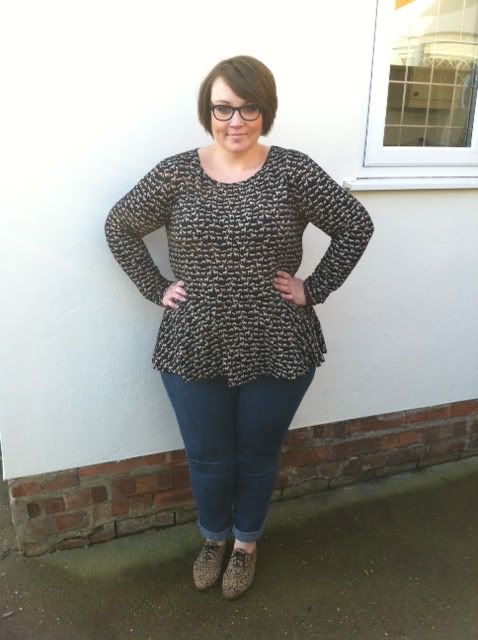 Now I have to make an apology to the lovely Hanna at The Wardrobe Challenge. Only last week were we discussing our general dislike of peplums and how we'd never worn them, and then what do I go and do? Oops sorry Hanna ;)
Now to the technical stuff, the top itself is a thinnish jersey, with plenty of stretch in it. I ordered my usual 22, but in all honesty I could have easily sized down to a 20. The print is indeed adorable and as for the peplum style, well I do actually really like, I might invest in a few more but don't worry the blog won't be overrun with peplums, I promise!!
How have you found ASOS sizing, do you share my frustration or has it been ok for you?