Hope you're all having a lovely weekend, it was my birthday today, it was unfortunately not the best start to my 33rd year on this planet. Sadly my nanna passed away today, she always did have impeccable timing... And although we didn't have the closest of relationships, and she had been ill for quite sometime, so the death itself was no great shock, I would still like to dedicate this post to her.
My nanna worked as a seamstress all her life and had a great eye for fashion, as a chubby child and a teenager, when I couldn't find fashionable clothes to fit my nanna would make them for me instead.
So thank you nanna for the clothes.
There you go, not the best birthday, but I did however have the most lovely coat bought for me as a joint birthday/Christmas present from the most unlikely of places, which again links back to my nanna, Bon Marche, yes that favourite of grannies across the land. A little harsh I know, but on the whole pretty true, but they are constantly improving their demographic, and I see more and more great peices coming into store. No, they are never going to set the Plus Size fashion world alight, but I can see them becoming a bigger part of my go to stores for classic pieces and wardrobe basics.
Coat - Bon Marche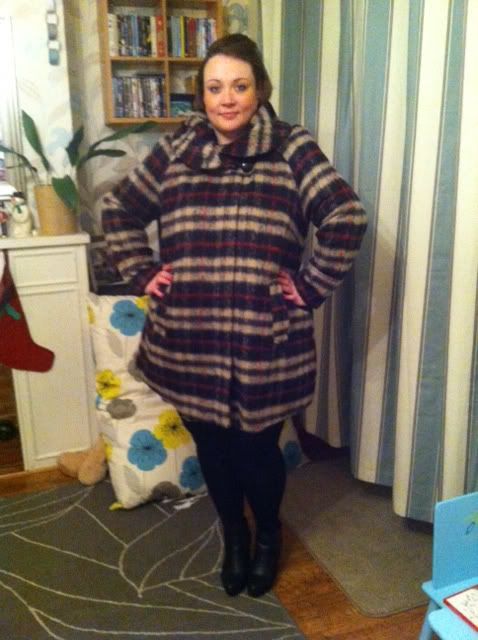 The coat itself is a faux wool, its so soft to the touch and I love the bold check, I love the collar too, and it's very warm (yes I'm aware of how much of a complete granny I sound, well I am 33 after all) and priced at £49.50 I think it's a complete bargain! If you like it, it's available in store and on line, the details of which are here.. Have you found an exciting item in the most unlikely of shops?