200... Is the magic number
09:54
Hi guys! Today's post is brought to you by the number 200 and the letter O - Oh wow! I've somehow managed to find something to write about 200 times now, which is crazy.
I spent some time trying to think what I should do to mark this momentous occasion, some of you kindly suggested I should get my baps out... Thanks guys... But really after much consideration I thought it was only fair to throw it over to you guys. So firstly, thank you for taking the time to read my constant mutterings, it really is appreciated more than you will ever know, secondly thank you for all the emails and comments I get, every single one makes me grin like the Cheshire cat, no, really.

So speaking of emails, I received an email from a lovely reader.. Hi Tara! *waves* regarding the Yoga project... Yoga?! Yes Yoga!
Long the reserve of slim, lean set, surely a fatty wouldn't be able to engage in such a complex exercise? You bet your ass we can! And "
Yoga for the Larger Woman
" displays this point beautifully, Established in 2005 Yoga for the Larger Woman has been offering classes, workshops and instruction tailored to a larger frame.
This year has seen them create a beautiful calendar for 2013. And although the project is based in the USA, I've found the images to be inspirational and its got me thinking if is anything similar here in the UK, so if you know of anything, please let me know!
If any of my USA readers want to grab a copy, head on over to the
website
, for the UK and rest of world gang head on over and take a peek at the wonderful images, it's really inspirational stuff!
Other exciting Plus positive stuff I've happened upon this week includes
Liverpool Fashion Live
, although not an exclusive Plus Size Fashion event, it is a great inclusive event with the catwalk featuring all sizes and shapes and brands including plus size favourites
Simply Be
. The event is raising money for Claire House. Taking place next week on 18th October, tickets are available
here
.
And speaking of fashion events, the London Plus Size Fashion Weekend seems to be gathering speed, the event organised by Remi from
Trapped in a Skinny World
has now been partnered with Evolve Magazine.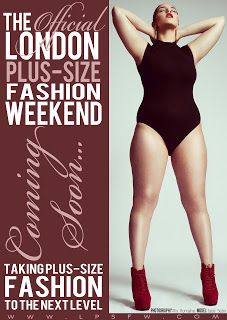 Taking place on February 15-17th in the heart of London and coinciding with London Fashion Week the event looks to be be fantastic. You can keep up to date with latest developments through their
Facebook page
.
I think you'll agree its always fantastic when there's stuff going on for us larger folk, so show your support where you can! And lastly a huge thank you again for all your support, every blogger says it, but I really didn't think one person would read my blog let alone the amount that do now, so for that I'm eternally grateful, you all ROCK!!!