Weekend shenanigans
10:33
Hey guys! Hope you're all well. I've been a bit lax in September haven't I?! To be fair it's not going to get any better as I'm going on holiday at the end of the week, but I will try and make up for it in the mean time!
So yesterday my folks came over as Mr BeBe and I had evening plans so they kindly babysat, but in the afternoon we went for a mooch round the market and for a kick about on the local parkland. I wasn't really appropriately dressed, but I looked cute, so it's all good!!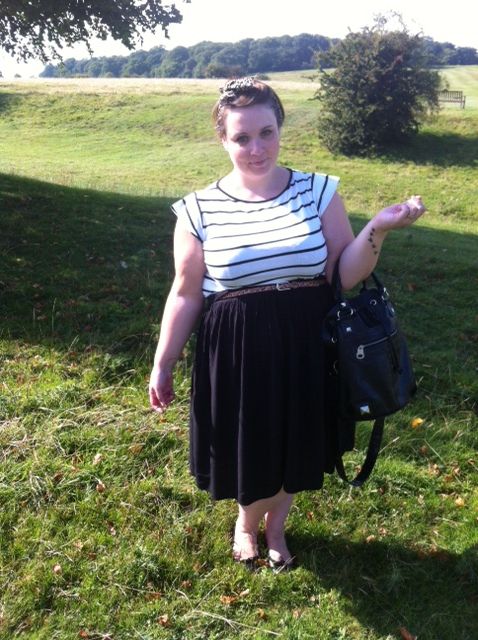 Inappropriately dressed mother...
The weather was so nice yesterday, but for some reason I just kept getting all hot and bothered (must be my age) so I hid under a tree for a bit whilst Mr BeBe had a kick around with Poppy...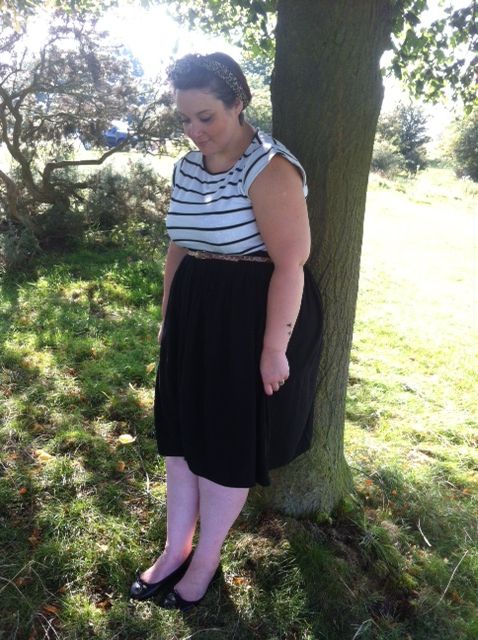 Could my legs be any whiter?!!!!
What I wore.....
Tshirt - Tesco (Past Season)
Skirt - Peacocks (Past Season)
Shoes - New Look (Past Season)
This was me trying to get the camera back!
I cooked my folks a lovely Turkish casserole for dinner, the recipe was courtesy of my lovely twitter friend Cemay. I'm a huge fan of Turkish food, and, well, Turkey in general, I love everything about the place, so it's a complete pleasure to try and recreate recipes in my home. I just hope I did it justice!
After dinner Mr BeBe and I headed out to The Piper club in Hull for an evening of Burlesque loveliness. My beautiful friend Ellen aka "Snappy O'Shea" a very talented artist in her own right runs the most fabulous Burlesque Co-operative "
The Cats Pyjamas
". They hold a bi-monthly show in Grimsby, but have just added Hull to their repertoire, the venue itself was an old picture house back in the day and has since been converted to a club, but maintaining a lot of its original features it really suited the night well.
I wore my very old, but well loved
Collectif
"Stella" dress. Along with my standard issue leopard print. Apologies for the crappy pics, but by the time we'd got ready and out, the light had faded and as I don't own any fancy camera equipment, this is the best my poor little iPhone could manage!
I was so chuffed with my hair. As some of you will know, when I had all my hair chopped off, I struggled to try and "retro" it up, but I decide to curl my hair last night and see how it went, I was so pleased with the results!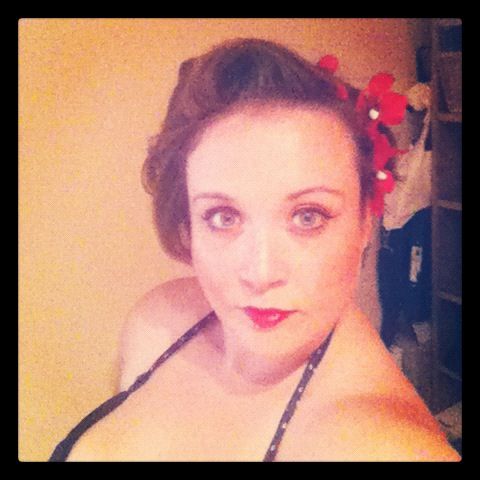 Scary face, sorry about that...
It was really nice to spend some time with the mister last night. It's a complete rarity nowadays so it was just lovely to be "us" for a couple of hours and hold hands, cuddle etc! Awwwwwww......*vom*
Cue ropey couples pic.....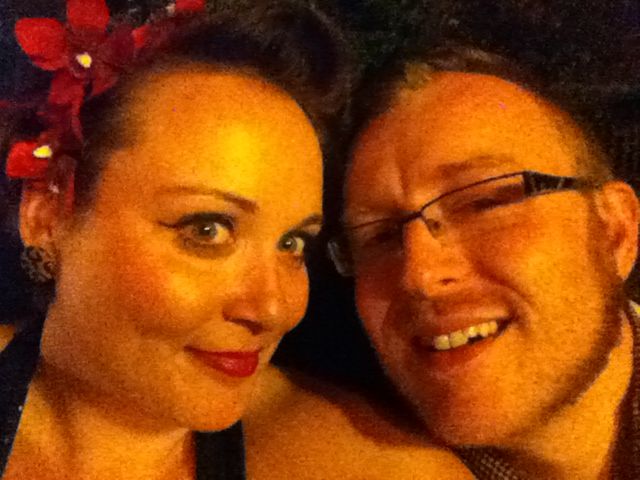 Hope you've all had a fab weekend, been up to anything good?