There's no place like home....
10:36
Ok, I think I'm recovered from the hangover... Thought I'd do a little catch up from over the weekend and show you what I got up to and what I wore. In case you're remotely interested!
Michael was away this weekend as he was exhibiting at Norcon, he took Poppy with him so his parents could spend some time with her, so I headed back to see my folks and spend some time with friends. And most importantly I got to meet my best friends new baby!! Are you ready for cute baby pictures?
Ladies and Gentlemen, may I introduce Master Kobi....!!!
I wore my new Simply Be floral trousers to do my running around and visiting. They are so comfortable as they have a little bit of elastic to them. I found the fit ok. I ordered my usual size 22, they fit great on the leg and waist but a little baggy around the hip/stomach area, but to be fair I have this problem with most trousers.
I just teamed mine with a simple black t-shirt and black ballet pumps, but the fabulous Amy at
These Girls Turn Heads
looks fabulous in hers with a coral blazer and white t-shirt!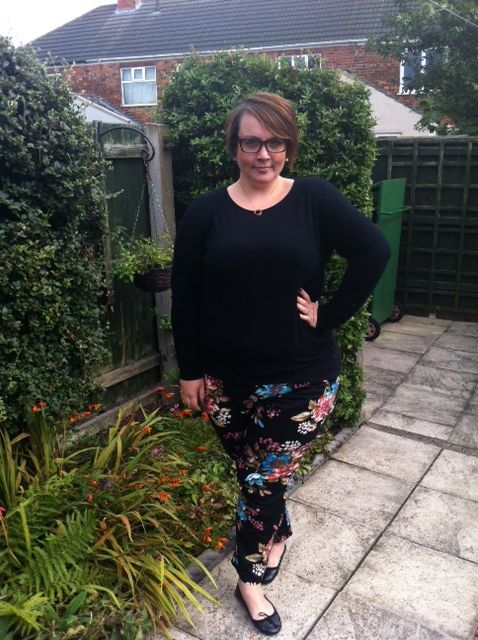 Modern day camouflage
What I wore....
T-shirt - Love Label (Past Season)
Pumps - New Look (Past Season)
So after I'd coo'd over the baby and got all my jobs done I headed out for the night to a friends birthday party. I wore another recent
Simply Be
purchase that I have been drooling over, the snake skin wet look leggings... The leggings themselves are really easy to wear, very comfortable and look great on.
What I wore....
Feather print vest - New Look (Past Season)
Jacket - Simply Be (Past Season)
Shoes - Love Label (Past Season)
They don't really show up too well in the pic (and I hated what I'd teamed it with, they joys of being away from home, I had only brought a couple of choices with me and wasn't happy with the over all look)
I did however love how they looked with my lovely shoes....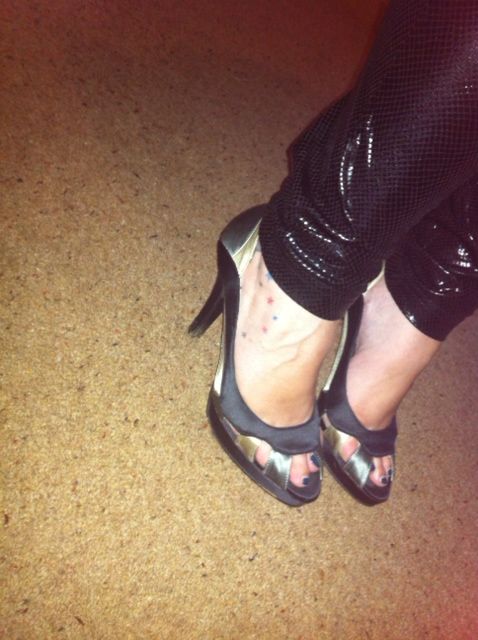 Needless to say I didn't let my uninspiring outfit spoil my evening, as you'll know from yesterday's post I had a wee bit to drink and I also ended up singing...
Oh the drunken Dusty Springfield renditions.....
So there you have it! Have you made any purchases that you've fallen in love with of late?