The Big Boot Challenge - Simply Be
19:00
Hello! So boots yeh? Bane of your life? They are for me, with a calf size of around 19/20inch, knee high boot shopping has been on the whole, frustrating and if I'm completely honest, a bit upsetting... (ok I actually sobbed in Evans once but hey I'm only human, fat shopping is hard sometimes!)
So, to that end
Toni
and I have decided to set a "Big Boot Challenge" to all the lovely plus retailers out there, surely somebody can accommodate my sizeable calves?
The first company to accept our challenge was Simply Be. For as long as I can remember the Legroom range stocked by
Simply Be
have stocked varying calve widths each one with names such as "Extra Large" Extra Ultra Large" a tad ambitious me thinks as they still didn't even come anywhere close, but this year Simply Be launched the "Super Curvy" calf fitting - I mean let's face it, that's some clever naming because after "Extra Ultra Large" there wasn't anywhere to go, so thanks for not calling them "big tree trunk" fitting guys ;)
It was with baited breath I waited for these to arrive, I just expected for them to arrive, me try them on, and not be able to zip them up like usual.... But low and behold, these fit, not only did they fit, I could wear jeans with them too! Flippedy doo!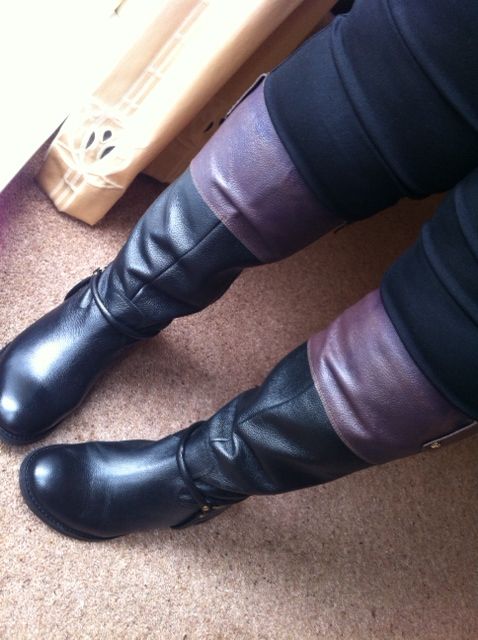 I went for the E fitting as I don't have a particularly wide foot in the
riding boot style
. There was bags of room in it and I found them really comfortable. I walked around all day in them, in and out of my dads car for house viewings and travelled a long while in the car. They didn't pinch or rub, I didn't have to pull them up once or adjust. My only quibble is that the brown section is a much more vivid colour on the website, I didn't find them to be in person though, but overall I liked the appearance and thought they looked good on.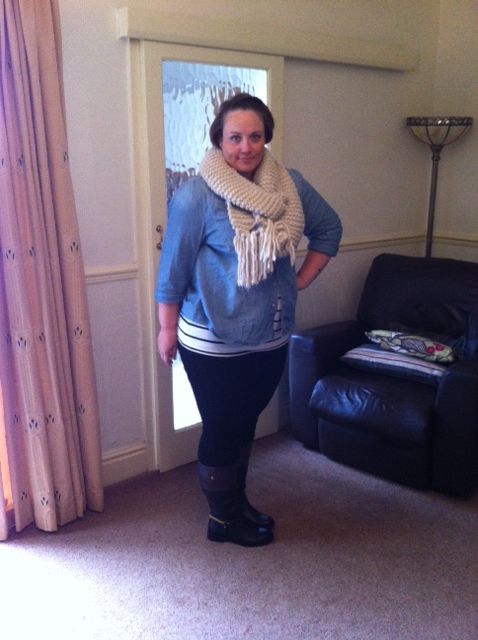 I wore mine with black jeans, stripe t-shirt, denim shirt and BIG woolly scarf for a cosy autumnal look.
Thank you
Simply Be
for rising to the challenge! You passed with flying colours! Hoorah for the Super Curvy boot!
Pop on over to
Toni
to see how she got on with the boots!