OOTD - well yesterday actually
22:49
So you guys saw my Vlog right? Thought I best show you what I wore with the
boots
! It's nothing special but felt like I owed you the rest of my body... erm so to speak?!
I was giving my newly acquired Primark leggings a bit of a road test. At £3 per pair I was worried they might be hole ridden by lunch time, but they did last the day and in line with what everyone told me on twitter, they are a tad see through, thanks for the warning girls, so I made sure I had a long top on (well dress actually) because as much as I don't care about what people think I'd prefer to to expose my knickers to the whole of East Yorkshire.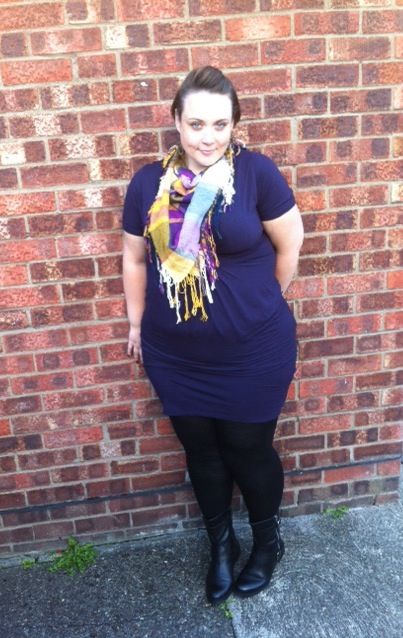 The dress I wore was actually one of my maternity dresses from the Holly Willoughby range, I originally got it for a christening, but as it was jersey I wore it for work too, it's a really pretty deep plum colour, doesn't really come across in the pics, then I just popped a nice bright scarf in with some purple and mustard tones.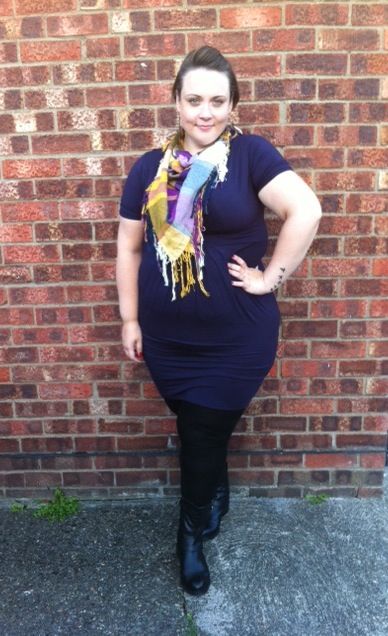 So the you go, said it wasn't very exciting didn't I? It's definitely moving swiftly into autumn now though so I'm digging out the knitwear and hats. Is there anything you're looking forward to dragging out from the back of the wardrobe?