Guess who's back....?
10:46
HELLO!!! Oh hello! How I've missed you all and missed my blog, I've been on my jollies I'm back now though, had the most wonderful time, lots of rest, relaxation, fun and food.
Thought I'd do a little holiday post. I was going to do a packing post, but unfortunately I just go so caught up with work and holiday prep I never got round to it. I packed very economically, we stayed in a cottage which was equipped with a washer/dryer and having to cram 5 people's luggage in a very small car I thought it best I packed as little as possible. I took 2 pairs of black leggings, a swallow print dress, striped H&M dress, a longline black vest, striped H&M sweater and leopard print cardigan.
I managed to get a couple of outfit pics, but as per usual I was having far too much fun to take photographs, I do this every time!
I wore...
Swallow print dress - New Look via eBay
Black Leggings - Primark
Black Pumps - New Look
Grey Bag - H&M
I wore this outfit on the Saturday, we went to Malton to one of their great food markets. They have a huge
food festival
every year which we love, but they've now started doing these small off shoot markets too, which is great. Lots of local food an produce.
Poppy wanted to get in on the action, model in the making!
I wore....
Leggings - Primark
Boots - Evans
I wore the outfit above for a trip into York. We visited the Railway Museum, and I'll be honest, can't say I'm over-fussed about trains, but the men folk enjoyed it and Poppy loved it and I did rather fall in love with the art deco monster.....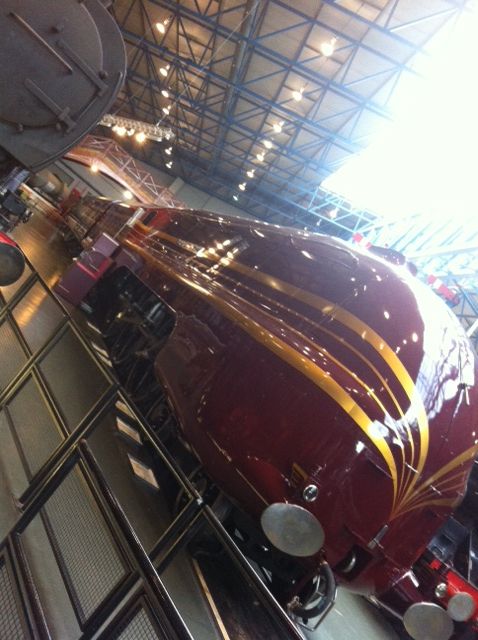 Sexual Train
In terms of outfits I just rotated what I took with me and washed when needed, which was really hard for me because I'm the kind of person who panics if I'm seen in the same outfit within a month! Despite that we had the most fab time, if you want to nose at the cottage we stayed in you can see it
here
..