Swimwear Challenge: Elomi
19:00
Hello there!

I think this will be the final installment of our swimwear challenge, if you want to refresh your memory, previous posts can be seen here:

Tesco
Evans

I hope in some way they've been useful!

I guess for the last one, I'm personally tackling the last frontier in fat blogging. The "fatkini" as it's been affectionately nicknamed hit the headlines a couple of months back when a few popular plus size bloggers decided showcase their fabulous selves in fabulous bikinis, it was, of course met with some criticism, much interest and started somewhat of a revolution. Chunky birds across the globe where posting pics of themselves in swimwear left right and centre.

So, I guess, here's my contribution, me in said "fatkini" in a rather less glamorous location than a lot of these girls!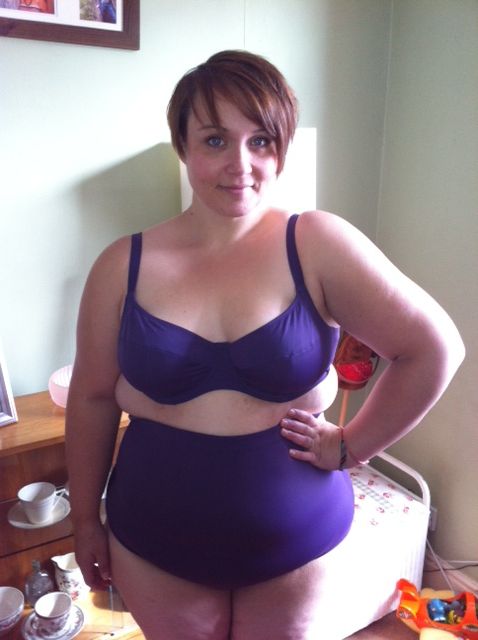 Its just me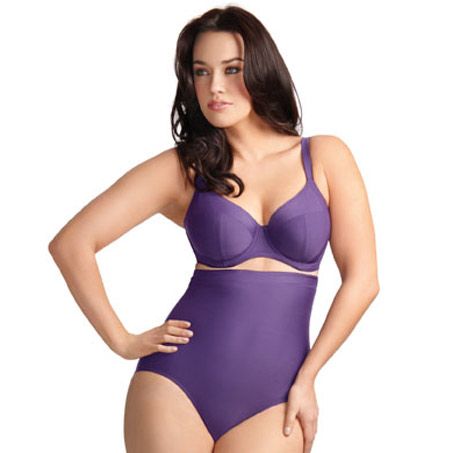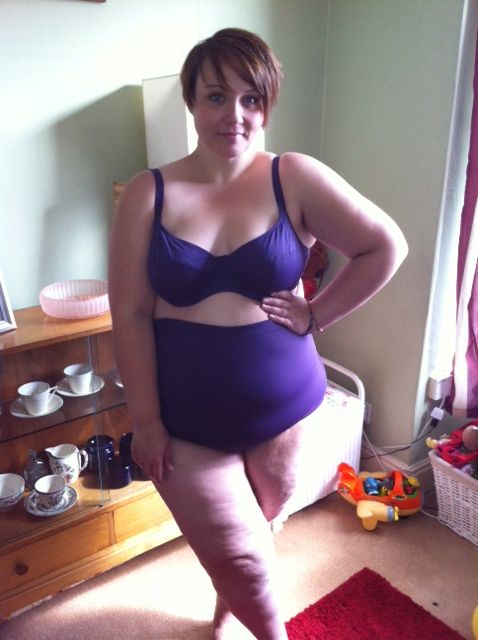 This is my..."I wish I was round a pool" face
The lovely folk at
Elomi
were also kind enough to send me the
Madeira takini top
which goes beautifully with the bikini.
Yeh it's not the Bahamas
What did I think?
Appearance
- Plain and simple this Bikini is a stunning colour that looks great on. The tankini top is beautiful on. I was sure when I took it out of the packet, I thought the print might be a little mature, but when its on I think it looks great. 4/5
Fit -
In hindsight I should have got a bigger cup size, but this was ordered before I had a boob tutorial with the lovely
Caroline at Curvy Wordy
. The briefs fit well overall but as with all high waist briefs on my body including control wear, they roll down on me, I don't know what it is they just do, so this is not a reflection on the garment itself, just my awkward body!The Tankini fit was great, although there was plenty of room, so if you prefer a snugger fit, size down on this one. 4/5
Comfort -
The whole ensemble was comfortable over all apart from the slight roll issue 3/5
Performance -
I haven't taken this swimming yet, and I do envisage it more as a holiday kinda ensemble. The bikini would be great for lounging, then I'd pop the Tankini over the top for swimming and as a cover up. The material itself is durable and of a high quality, and after a few star jumps and lunges, I still felt pretty secure
3
/5
Value -
The Bra and brief are priced individually at £38 each and the Tankini top was originally priced at £66 but is now £33. Lets be honest, it's not cheap and would be out of a lot of peoples price range. But what we have to remember is this is specialist swimwear. The style itself is a rarity in plus size and you are ordering the bra itself to fit your cup size and back size specifically. There's no denying the quality is beautiful and I think this would last a long time. But for me personally to pay nearly £80 for a bikini....? I just couldn't justify it.
2/5
I think my favourite from the whole challenge was the Evans Pindot suit, I just loved the polka dots, the fit and support it gave me, and I know from chatting on twitter that a few of you loved it too, and its one of my top search terms on the blog, so people are still looking for that suit!
I've had a blast doing this challenge and I hope its maybe pointed you in the direction of a style you like or a retailer you might not have thought to visit. I wish we could have done more, but its tough getting people on board. Maybe next year hey?
Don't forget to head on over to the other gorgeous swimwear panel members to see how they got on with their Elomi swimwear...
Coverage -
The coverage was great, well as great as it can be in a bikini, but with the added Tankini it was excellent
5/5
Overall I really did love this suit, I of course love the statement it makes, the 2 fingers up to society who would have you think chunky birds shouldn't be seen in anything but a muu muu, its bold colour and sleek lines.
And of course a HUGE thanks to Mhairi, Gina and Sara who were kind enough and brave enough to accept my challenge. Thanks Ladies, you're all a bit fabulous!