It's all gone a bit 50's ski lodge...
13:40
Well I don't know about you guys but here in East Yorkshire it's turned more than a bit chilly and miserable... But as luck would have it, I had the foresight to order a rather fab and cosy jumper.
I fell in love with this jumper when I saw it, as it had a whiff of vintage about it, I had visions of sitting round a log fire, with rosy cheeks, drinking mulled wine whilst laughing with gay abandon. The reality is, I hate mulled wine, have a gas fire and am more likely to be found watching telly with a cuppa.
The jumper itself is Joe Browns, a brand which will normally divide most people, a bit of a marmite brand shall we say, and I for the most part was on the hate side, it really is not my kind of clothing, far to fussy, frilly and flowery for me. But this little beauty has definitely made me think twice about the brand! In terms of sizing I went for the 20/22 and found it more than generous. The length is a bit funny it's a bit inbetweeny, so some of you might not feel comfortable wearing it with leggings, but as long as I have a good quality, thick pair on I don't mind so much.
Oh dear, am going to have to sort better lighting if this crappy weather continues!!
What I wore...
Leggings - George @ Asda
I teamed it with trusty leggings and some awesome
Chelsea boots
that the lovely folks at
Evans
sent for me to try out. I've had them for over a month now and have been wearing them a fair bit, they are so comfy and look great. I love the brogue detailing and the classic elasticated sides and as part of the flexisoles range they are really comfortable. I can see me wearing these over and over throughout Autumn and Winter, they're just so cute!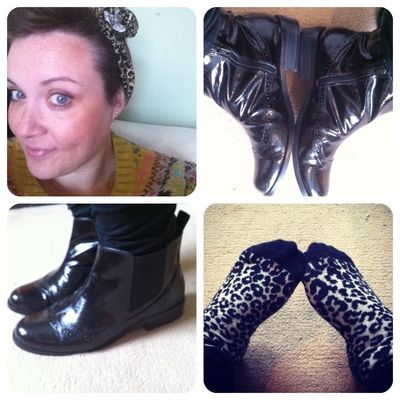 I'm growing my hair out at the moment so I opted for a quiff and leopard print headscarf, and just because I'm incredibly anal I put on matching socks!
Have you been converted by any brands? Or do first impressions last?
Disclaimer: The boots in this post were gifted to me, I was not paid to review this item or speak favourably about it, all opinions are my own