Groovy moves and pretty toes...
21:14
Happy Monday folks, has it been as bad as you thought? I had the pleasure of meeting Chika today from
Plus My Size.
It's always great to meet up with tweeters and put a face to the name. I'll blog my outfit and what we got up to tomorrow probably, but in the mean time I thought I'd do a catch up post. My apologies in advance, it's a bit lengthy, please feel free to scan read and look at the pictures... come on you know you do it, don't say you don't!
I was so busy over the weekend, which is most unlike me, I thought it necessary to do a little "what I did" post.
So I arrived in my home town of Grimsby on Thursday (oh the glamour, I know) The reason I had to head home this weekend is because my best friend Sara is due to give birth any day now, so I said I would cover some gigs for her whilst she's waiting to pop!
We had a quick band practice on the evening, which went ok, to be completely honest I'm a bit out of practice and my vocals and memory aren't the best! I'm getting old kids!
On the Friday I decided to treat myself to a pedicure, I haven't had one since December last year and my poor tootsies were looking more than a tad neglected. The lovely Debbie who has been mine and my mums beautician for about 10 years very kindly squeezed me in and popped round to sort me out. I went for a dark teal shade on my toes, it was an OPI, didn't ask what it was called though! Answers on a postcard please!...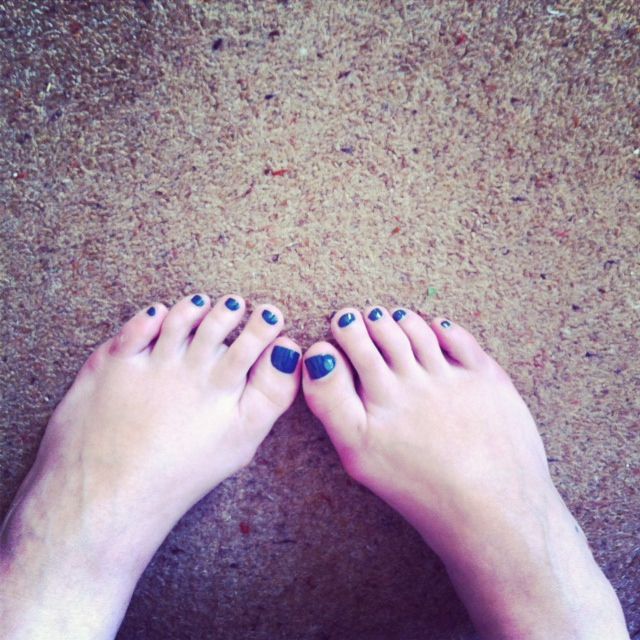 Guess the OPI shade.... No prizes though... OK maybe a booby flash
So what did I do in the afternoon? Well of course what everybody does when they've just had a pedicure, go in the public paddling pool with my daughter!!!!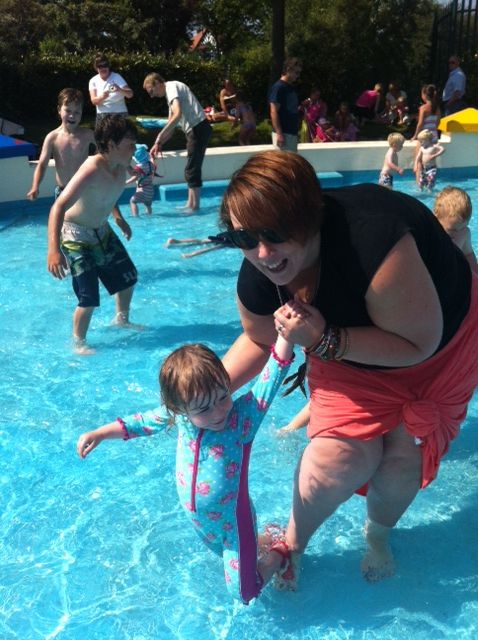 Splash time...
Yes Folks, this is Sunny Cleethorpes, not the Med.
I was completely unprepared for going in the paddling pool, we didn't realise how busy it would be so I had to go in and supervise Poppy and I got completely drenched in the process, I spent the car ride home on a towel, but it was really good fun and Poppy absolutely loved it. Note to self - take swimming cossy to paddling pool.
So after my days adventures I headed off to my first gig of the weekend, they were both weddings and both very different. For the first night I wore my Chesca jumpsuit for the gig, didn't get any pics but it wore it near enough the same as in my blog post
here
...
I didn't get in until 1am but was up at 7.30 the next day as the joys of parenthood messes with your body clock!
My first stop of the day was the tattooist, I'd been hankering for some more ink for quite some time, when I happened upon this design and variations of it, I decided it should be my next one. I've got a really great guy who's brilliant but cheap as chips, he did mine for £20.
She flies like a bird in the sky......
I'm really pleased with the results, a reminder to myself to spread my wings and fly.
I also managed to squeeze in a little trip to Asda. I'd spotted the amazing "lip dress" online last week, so I had to go and try it on, for educational purposes of course!!
Because this dress is from the G21 range it only goes up to a size 20 *sad fat bird face* note to Asda - make stuff bigger please. This particular dress is viscose, it has no stretch at all to it, but because of the cut I manage to just about squeeze my size 22 body into it. It wasn't particularly comfortable and although I love it, I just couldn't see me getting much wear out of it. I did however get this bad boy, which is, let's face it, equally as impractical but I couldn't resist....
Check out my side chub!
Ooooh I also got these cute polka dot comfy trousers, which look like PJ's but we all know how much I love PJ's so I don't really care!
Right, after all that shopping I sloped off to my second gig of the weekend, which was crazy, we played the gig outside in the courtyard of this big stately home thing, the wedding party were complete ravers, did not stop dancing all night, so after the initial shock of playing outside and freezing my nips off I actually had a good night. I got Stu the bass player to take a pic of my outfit for the night. Cheers Stu.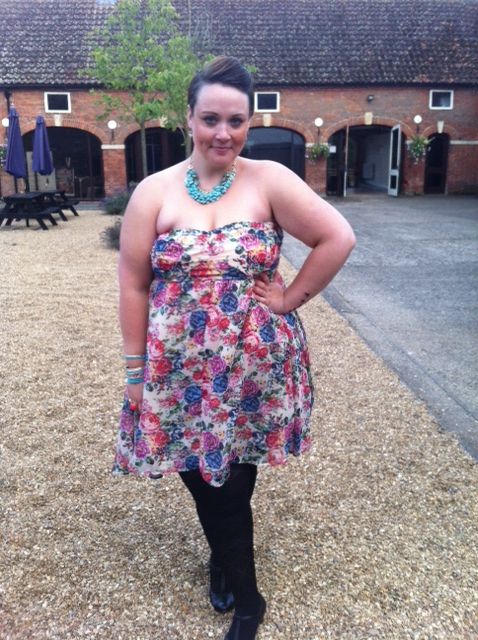 Floral Flouncing
I got this gorgeous ASOS dress from the lovely
Rachel at A Dress is for Life
, thanks Rachel, I love it :) So erm, I think that's everything, sorry it was lengthy, but don't worry I very rarely have this much happening in my life!
Did you guys have a good weekend? What did you get up to?