Off I toddled to work today, selling my tea and cakes.... For those newer readers I run a vintage style tea party business, anyway, yesterday I received a lovely parcel from the guys at Curvissa which included these lovely denim Capri pants which I thought would be ideal for work today as I could "retro them up" so to speak.
I was really pleased with the cut and fit of the jeans, the denim isn't too heavy, but still feels substantial and they have enough stretch in them to be comfortable. When I looked at the sizing chart it was apparent I'd have to size up from my usual 22(UK) to a 26(UK), something I've learnt since I started blogging, for some reason it never previously entered my head to look at sizing charts! (how dumb am I?) So thank you fellow bloggers!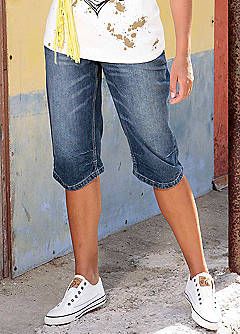 I love how they've been casually styled on the site, I'm definitely going to style them casually next time I wear them. Well as I write this it's gone 9pm, I've had them on for over 12 hours now, and unlike a lot of jeans I wear, I'm not desperate to take them off, so not bad going! Oh and one last thing.... Did I mention I'm writing this from my new iPad? YEY! I finally managed to save enough money to replace my deaded laptop, so undecided to treat myself to an iPad instead! So far, so good!!
*Disclaimer: This item was gifted to me for review. I have not been paid to write this article or comment favourably on the item/brand, all opinions are my own.*