Five Take: Festival Chic
21:26
Howdy! It's Five Take time, this week we're doing Festival Chic. Let's firstly get this one out of the way, shock, horror, I've never been to a festival. I hate camping, I hate portaloos. I would love to do one, but until I can afford to stay in a swanky hotel or chic teepee this ain't happening. But; should I ever go to a festival, I would consider wearing something like this....
From what I've seen most festivals are a complete wash out, so I've gone for layers. Ideally, I would have liked to have worn wellies, but alas, wellies to fit the fat girls calves a few and far between and I'm yet to own a pair. I'm sure there are some out there, I just haven't searched extensively. Thick black tights and highwaisted shorts are teamed with a long sleeve leopard print top (it's actually my ASOS leopard print dress) my coral scarf for a bit of colour and my fab lightweight parka.
I would have liked to have worn denim shorts with this, but I'm waiting for some to arrive that I've ordered from the new look sale. Yet again, I digress....Apologies for the grumpy arse pic, don't know why I didn't crack a smile, I'm in a fairly good mood, I promise!
What I wore...
Parker - Simply Be (past season) Dress (worn as a top) - ASOS
High waisted shorts - Love Label at Littlewoods (past season)
Boots - Kurt Geiger
Tights - Evans
Scarf - Internacionale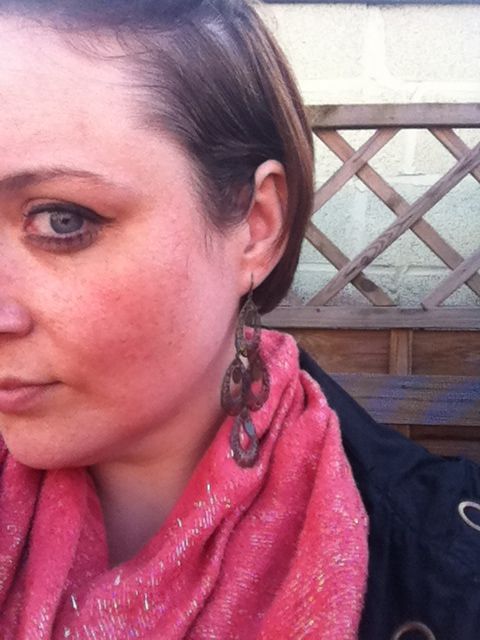 I think festival chic is moving away from the traditional boho styling and people are expressing their style a bit more in what they wear. Which is no bad thing. I like the boho styling, and I was into in a big way a couple of years ago, but, I just don't feel it's me any more. I'd like to think the earrings are just a little nod to this.
Check out the other Five Takers Festival stylings......
Rebecca - The Plus Side of Me
Nicole - A Well Rounded Venture
Gina - Fat Fit Fine
Claire - A Monkey Fatshionista